Not only chemistry, but science in general, is one of those subjects that is effortless to some children, but hard to get their head around for others. Learning how to inspire children to learn science can be a life-changing educational move.
We have also covered the great advantages of playing around at home with a chemistry set for kids. You can also check out our reviews there.
Not only kids are allowed to learn science, though! High school is an even more important period for getting interested in STEM. The best way to feed teens interest is letting them play with science experiments kits designed for teenagers.
With massive variations in subject matter and the involvement of maths, it is no wonder more students are struggling to keep up with biology, physics and chemistry than ever before. So when it comes to inspiring children to be more interested in the sciences, and to succeed in learning, having a little input is essential.
So how can we inspire children to learn science, or chemistry?
Here are just a few ways you can provide a little inspiration and make science fun (which is key for motivating kids) for children.
1. Think Outside the Box
It can be tempting to consider science a relatively 'dry' subject, but there is far more you can do to inspire learning beyond textbooks and simple experiments. Chemistry concepts can seem difficult to grasp at the beginning.
Science affects every part of the world around us, from the effects of evolution to the chemical interactions in anything from our food to our household cleaning products.
By thinking outside the box, it's possible to give children a way to enjoy science in new and exciting ways. Whether it's watching an enjoyable nature documentary to discover more about natural selection or examining the effects of physics in the real world, being a little more creative and exploring science in new ways can be an excellent way to get inspired.
2. Invest in One-on-One Support
While teachers do their best to offer a well-rounded experience to all their students, it does mean they are stretched thin when it comes to providing extra care and attention. 93% of parents in the UK experience anxiety surrounding their child's education, and science can be a particularly tricky subject.
But investing in some one-on-one help, via a specialised science tutor, could be the perfect way to gain the interest of the child and provide them with a helping hand to understand the more difficult concepts. This especially applies to subjects where equations and mathematics are required, areas of science that don't come easy to many kids (or parents).
3. Relate Science to Subjects Your Child Already Enjoys
As previously mentioned, science is all around us. So when it comes to the interests of your children, whether it's playing sports, drawing or even playing video games, science is a daily part of those activities.
Helping your child to relate science with play is an excellent way to get them more inspired about learning; because they're learning about a subject they are personally interested in.
Whether it's the physics involved in scoring a football goal, the chemicals in pencils and paper that allow them to draw or the electronics within their games console, there's a little bit of science in everything.
For children interested in how the world around them works, relating science to subjects they enjoy is a particularly powerful choice.
4. Don't Be Afraid to Get Physical
Many of us, our children included, don't learn best when it comes to copying off the board or reading from textbooks. These activities are relatively passive, and as such, it's easy for vital information to be forgotten or muddled if children aren't provided with a way to make that knowledge 'stick'.
Getting physical with science – also known as practical science – is a fantastic way to motivate and inspire children to learn science, and also provides a new and more engaging way to connect those dots beyond simple theory. Performing experiments is an excellent way to show, instead of tell, when it comes to how science works, whether it's biological processes or chemical reactions.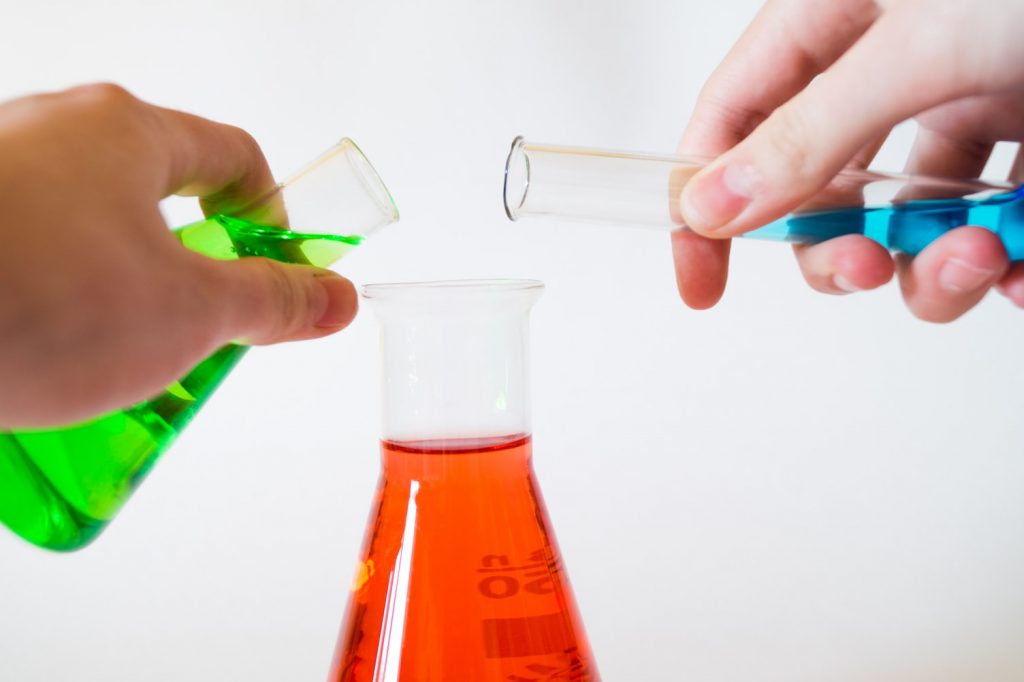 Particularly in chemistry, experiments are everything. No matter if you a just growing some crystals, or making a soda/vinegar volcano, doing fun experiments at home can be the key that transforms some "boring science" into one of the best and most fun things a child can experience!
Playing around with molecular models can also be a fun alternative!
5. Be Enthusiastic – or Bring Someone in Who Is
Children are most inspired when they see enthusiasm and interest from others.
So when it comes to science, showing just how interested you are in the subject matter they are learning can make a world of difference. But if science isn't your thing, don't be afraid to bring in outside help to provide that fascination and enthusiasm for you. 43% of parents employ tutors intending to improve their child's grades, but a tutor can be just as much a source of inspiration for your child as they can be a way to get results.
A child that is enthusiastic about learning is a child that learns more, and providing a role model for that interest is a great place to start.
6. Everything is Chemistry!
Everything we can see, anything around us is made up of chemicals! Therefore, you can find a scientific reasoning to explain most common facts. We have previously covered a big list of 100 fun chemistry facts, all explained, which can be a great starting point for finding stuff that can be of interest to your kids.
Inspiring children to understand and learn science is easy if you think beyond the basics. Whether hiring a tutor sounds like the perfect solution, or getting out in nature sounds like the best way, going the extra mile does make all the difference to their learning and knowledge building in the long term.